Executive MBA - Warsaw University of Technology Business School
Study organization
WUT BS invites you to take part in one of its MBA studies. The classes are conducted fully in English with strong attention paid to interactive methods and modern technologies.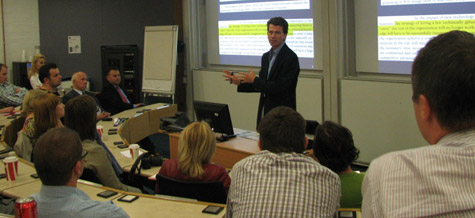 The first semester of the EMBA programme starts at the end of September; the second semester commences in mid-February. The course runs to the end of July next academic year.
Classes are conducted:
Friday 6.00 p.m. - 9.15 p.m. (4 x 45 min)
Saturday 08.15 a.m. - 7.00 p.m. (8 x 45 min)
Sunday 08.15 a.m. - 3.30 p.m. (4 x 45 min)
Classes are conducted at WUT Business School building, 79 Koszykowa Street.
The syllabus comprises 720 contact hours of instruction. All programmes offered by WUT Business School are based on those three pillars: Knowledge for Business, Business in Actionand Personal Development. These result in a responsible, effective and competent leader, capable of facing modern world challenges.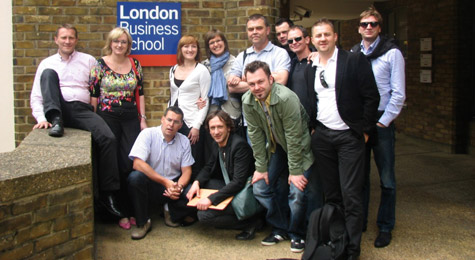 Now the School offers special study visitis
MBA MODULE in NEW YORK CITY: "LEADERSHIP AND BUSINESS IN A GLOBAL CITY"
Executive MBA students may participate in this intensive, immersive module, visit leading NYC-based firms representing such sectors as finance, pharmaceuticals, clean technology and consulting. They also interact closely with entrepreneurs, CEOs and acknowledged subject-matter experts. One aim of this special learning experience is to enhance our MBA students' managerial sophistication and global-standard competencies, which our MBAs can then apply anywhere in the world. The experience also expands their professional networks and exposes them to the most advanced trends.
INDIA STUDY VISIT: "GLOBAL ECONOMY – INDIAN PERSPECTIVE"
The trip to Bangalore & Delhi is co-organized with Chandragupt Institute of Management Patna and it's a great opportunity for students to get to know more about Indian market.
WUTBS India Study Visit 2016
CHINA STUDY VISIT
The trip to Shanghai is organized by Baltic Institute of Management
Learn more at: www.business.edu.pl/program_EMBA_program_studiow.php